Heddlecraft® is a digital weaving magazine. Within 24 hours of purchase, a PDF and weaving information files (wif) for drafts in the Samples section will be emailed to the email associated with the payment. If you use weaving software, the wif files may be helpful. If you don't please feel free to ignore or delete them. Issues of Heddlecraft® may be saved on your computer, printed it out, and/or moved it to your tablet . . . and even your smartphone . . . great for portable viewing for the weaver-on-the-go!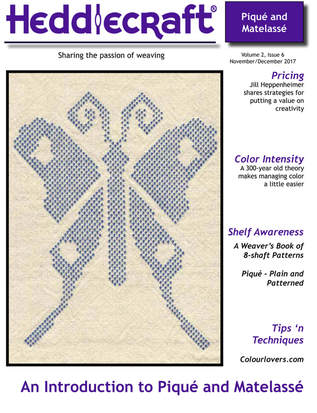 November/December 2017What's inside
An Introduction to Piqué and Matelassé
Samples for 4- and 8-shaft looms
Pricing - Putting a value on creativity
Color intensity made a little easier
Shelf Awareness - A Weaver's Book of 8-Shaft Patterns
Shelf Awareness - Piqué- Plain and Patterned
​Tips 'n Techniques - Colourlovers.com
Heddlecraft®
is published six times a year. Click on the
Subscribe
tab below to purchase a one-year subscription for $19.99. To purchase a single issue for $4.50, click on the
Single Issues
tab.
---